well I wasn't interested in the RC-F because of the price, but that is the only thing that was holding me back; the rest of the car I was very interested in.. But ~$75,000+ was beyond what I was willing to spend on a car, while I can easily afford it, I can't justify and out the door price of over $85,000 for a car.
I test drove the RC350 F-Sport, but coming from a 425hp Chevy Camaro, which was preceded by a 425hp Chrysler 300SRT8, going to a 306hp V6, was very uninspiring. I configured one on the Lexus website and with all the options I wanted it was ~$58,000, with Taxes, License, Fees, etc it would have been ~$64,000.
The RC350 is a great car, but it just didn't have the power I wanted at the $58,000 price point.
Well C'est la vie as they say....
until:
scouring the wonderful internet I came across an RC-F w/premium package with 1,075 miles being sold for $65,000.
That couldn't be right.. could it???
Well turns out, someone bought the car, had it for about 2 weeks and their financing fell through, so the car was returned.
I went to see it, did a bit of haggling and walked out with and out the door price of ~$70,000, that's all fees, taxes and a 4-year maintenance plan.
Since I was using the money from my Camaro Lemon Law buy back and already had my financing lined up from my bank it was a cash deal from Lexus, since the car had already been titled by the DMV the dealership can't legally sell it as new, they have to sell it as used, and because it was under 6,000 miles it didn't qualify for the Lexus Certified Pre-Owned program, which means I didn't have to buy any type of warranty, because the new warranties are still in place as California law required them to be transferred to the 2nd owner at no charge for vehicles under 3yr/36,000 miles.
The car had been on the dealer lot since the return for nearly 90 days, I'm guessing because no one wanted to buy a "used" RC-F.
I'm not so picky, nearly $15,000 of the MSRP for a basically brand new car with 1,000 miles on it.. **** I'll take it.
While I am not really a fan of the red interior, it will grow on me. I couldn't pass up the deal.
The RC-F ended up costing me only $6,000 more than the RC350 F-Sport would have.. It truly was a deal I could not pass up.
So here is the RC-F at the dealer, I took this while they were prepping and detailing the car: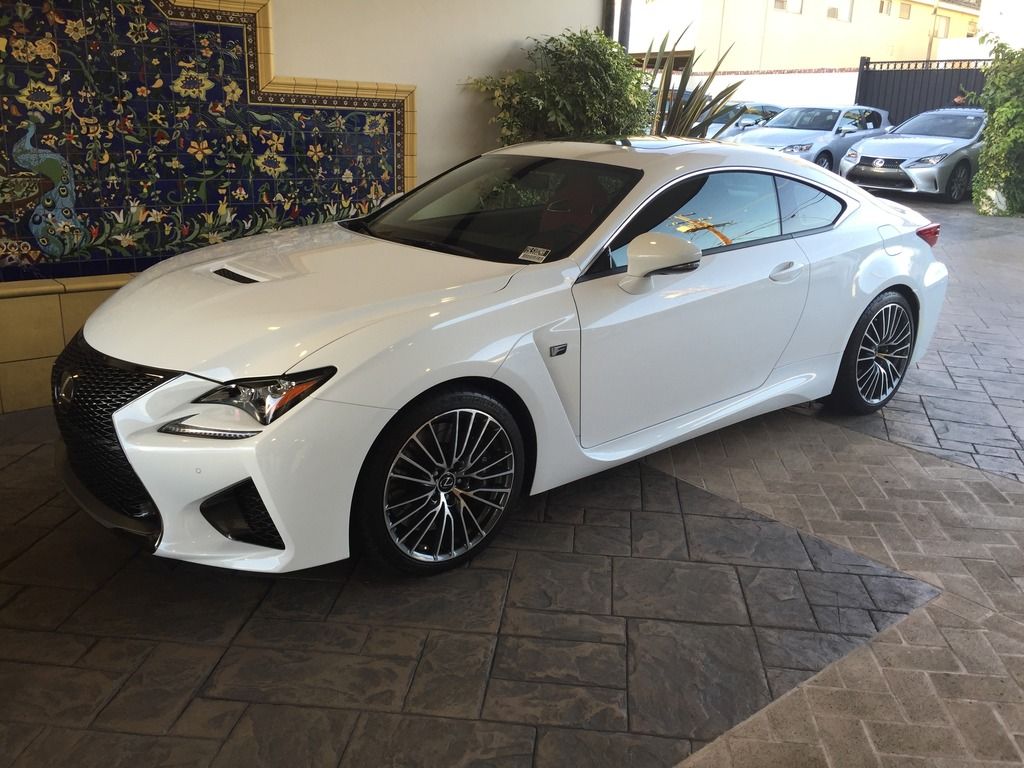 I'll get some pictures of it at it's new home, and the interior later today.
So far I have driven it 250 miles in the past 2 days and am in love with the car, while I miss my convertible. for the extra 50hp and the pure luxury and the fact that it is a Lexus, I'll get over it.